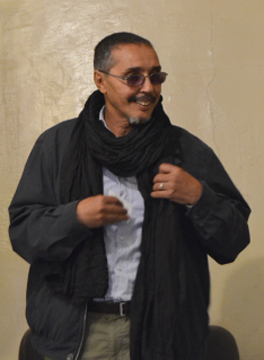 The present leaders of the Polisario Front and other institutions of the Sahrawi Republic (SADR) are all non grata persona for the Sahrawi populations in Tindouf camps. After having strongly protested against the continuation of Mohamed Abdelaziz in his functions as chief of the Polisario Front and SADR President, the Sahrawi refugees sequestrated since more than 36 years in Lahmada camps in the South West of Algeria, have strongly denounced the confirmation on 27th February of the former Minister of Information, Khatri Adouh, in the functions of President of the National Sahrawi Council (CNS – Parliament), the functions he was assuming temporarily since the suspected death of Mahfoud Ali Beiba on the 2nd July 2010. The latter died officially following a heart attack but likely, he was killed by some DRS agents (Algerian military intelligence service). Ali Beiba was becoming very annoying with his positions judged in favour of the Moroccan autonomy plan, thus, for his chief Mohamed Abdelaziz and the DRS, he should be killed.
It is also for these reasons that among the young protesters opposing the confirmation of Adoh at the head of the CNS, are the leaders sympathizing or supporting Mahfod Ali Beiba. For sure, Abdelaziz was strong like marble as soon as he hears about protests  in the streets, remained faithful to his habits by giving orders to his armed militia to subdue this protest which might have spread in the whole camp of Tindouf.
According to Khatri Adouh's detractors who still have the courage to communicate with foreign countries, the nomination of the latter to the presidency of the Parliament is not in conformity with his "law" stipulating that only the members of the Front leaders committee, are eligible to this post.
But the voices of the protesters are nothing in front of the strength of the DRS powerful services which are controlling all the Sahrawi institutions managing the camps of refugees. Since the disappearance of Ali Beiba, the Algerian DRS generals have chosen Khatri Adouh known for his hostility to the Sherifian Kingdom and especially for his fierce opposition to the autonomy plan proposed by Morocco for the settlement of the conflict of the Western Sahara. He presents also other qualities which he showed during his passage in the orientation department, the real machine for young Sahrawis' endoctrination. Qualities which are particularly appreciated by the DRS senior officials and by Mohamed Abdelaziz . the golden rule for the latter is to eliminate all those who oppose these separatists. Hurray statuquo!