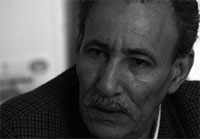 According to"Polisario Confidential" sources, the delegation of the Polisario Front taking part in the negotiations with Morocco in Manhasset (Suburbs of New York) next January 7, should be altered, with the departure of one important negotiator of the Guerrilla, due to "internal divergences". Contacted by telephone, a source close to the direction of the Polisario Front, said that Brahim Ghali, representative of the Polisario Front in Spain, will not participate in the negotiations. A complaint for "slavery" was registered against him in the "National Audience", (highest Spanish authority).
Also, according to this same source, the direction of the Polisario Front would plan to entrust the representation of the movement in Spain to another member of the Front in order to avoid seeing their current representative put in examination. Several applicants would have proposed to replace Ghali in the team of negotiators; it seems that the Secretary General of the Polisario, Mohammed Abdelaziz, prefers to replace Ghali by a "historical" figure of the front, Mohammed Salem Ould Salek, furious to have been excluded from the two preceding rounds.
It is an equilibrist exercise that will have to play the Secretary General of the Polisario Front, because the departure of Brahim Ghali from the team of negotiations means the loss of one of the "falcons" representing the hardest branch of the revolutionary movement.