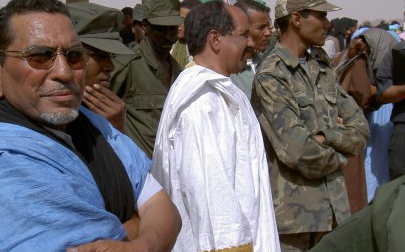 A fact mentioned in the latest report of the UN Secretary General on the Western Sahara went unnoticed. It is about the Polisario incursions in the buffer zone. The repeated violations of this zone by armed elements of the Polisario are actually a blatant violation of the 1991 cease-fire.
According to the UN report, armed elements of the Polisario have, on seven occasions, entered or crossed the buffer zone aboard military vehicles. These maneuvers are not however dictated by concerns to enhance the security measures following the kidnapping of three Western humanitarian workers from inside the Tindoud camps in October 2011.
The importance granted to the numerous details almost make you forget that the most serious problem in the Western Sahara conflict is the humanitarian problem. Tens of thousands of persons are actually still living in dire conditions in the Tindouf desert  while their sufferings are met by  general indifference.
Algiers turns a deaf ear to the international community's repeated calls asking to enable the HCR to conduct a census of the Sahrawi populations living in Tindouf. Their status as hostages of the desert relegates them to the backstage. The Tindouf Sahrawi hostages matter only as a bargaining chip used by the Polisario and Algeria to maintain pressure on the international community. No heed to their claims to enjoy their basic human rights that are constantly violated such as their right to free movement outside theTindouf camps that are under the continuous watch of the Algerian military intelligence services.  The right to free speech is likewise denied to the Tindouf hostages, and those who dared to challenge the orders and raised their voices paid dearly for it.
A clear cut evidence to this is the Polisario dissident, Mustapha Salma ould Sidi Mouloud, who challenged the rigid limits imposed by Algeria and its acolytes when he publicly voiced his support for the Moroccan autonomy plan. He has been banished from the camps of Tindouf and arbitrarily separated from his children and family.