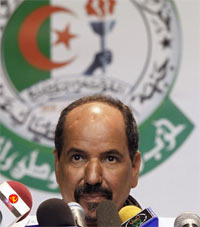 The Polisario leadership is considering with anxiety the current visit of King Mohammed VI of Morocco to France, well informed sources from the Tindouf camps told Polisario Confidential.
The first alert was sounded in Tindouf as early as May 9th. The Moroccan Foreign Minister, Saâd Eddine El Othmani, was then in Paris for talks with the close aides of the newly elected President François Hollande, mainly Pierre Moscovici, his electoral campaign manager and chief of the presidential transition team.
The constructive statements made by Moscovici at the end of his talks with the Moroccan official worried most Mohamed Abdelaziz, the same sources said. "Relations between France are Morocco are so deep, so intense, so strong. Beyond the political changes that took place on both sides and that are tremendous, we want to bring our societies closer".
The statement cast a shill on all the general staff of the Polisario, which is claiming, with Algeria's support, the Western Sahara's independence from Morocco. The anxiety of the Polisario leadership got worse when they learnt that the King of Morocco was visiting Paris and that he would likely meet the new French president, the same sources said.
That was too much for Mohamed Abdelaziz who has not yet swallowed his disappointment when the new leadership in Madrid, led by Prime Minister Mariano Rajoy, did not exert any pressures on Morocco as hoped by the Polisario and Algiers. The whimsical expectations from the Spanish were not fulfilled and Mohamed Abdelazize now fears to get the same disappointing blow from the new French socialist team.
The Spanish syndrome is all the more fretful for Abdelaziz as he is scoring more and more setbacks since the fall of Kaddafi, who was, along with Algeria, the Polisario's main supporter  at the military, diplomatic and financial scales.