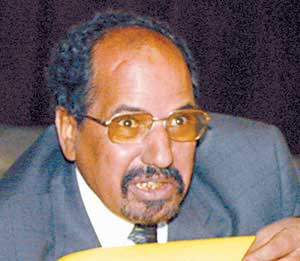 The Polisario leaders have every reason to worry about their near future, a future which seems more uncertain than ever. Some hard-line elements within the separatist movement have already started looking for a safe haven to seek political asylum. These leaders' fears and worries are triggered by the increasing number of countries and personalities that are reconsidering their support to the Polisario.
The Polisario leader, Mohamed Abdelaziz, and his close aides had pinned great hopes on the coming to power of the Popular Party of Mariano Rajoy in Spain and more especially of the Socialist Party in France, two of the main former allies of the separatist movement in the European Union.
However, their hopes soon faded away when the new leading government teams in both Madrid and Paris renewed backing to the Morocco-proposed Autonomy Plan as a sound proposal to settle the Western Sahara conflict.
Last Sunday, further disappointment was in store for the Polisario in France. After the demise in November 2011 of Danielle Mitterrand, who was during her lifetime a tireless advocate of the Sahrawi separatists' cause, The Polisario lost another relentless defender of its theses in the French National Assembly and in the European parliament, in the person of the communist MP Jean-Paul Lecoq. The latter failed to get re-elected in the department of Seine-Maritime and his voice will no longer be heard.
The news was a shockwave for Mohamed Abdelaziz and for the whole Polisario leadership. Abdelaziz, who returned to his headquarters in Rabuni, at the end of a visit to Italy, got mad when he heard that Lecoq was ousted from the Parliament. According to an elderly man from the Rabuni camp, Abdelaziz started pounding his desk and shouted loud "somebody has surely cast an evil spell on us". He then yelled at his close aides and asked them to leave his office and to leave him alone.
What makes the Polisario leader and his lieutenants even more furious is the dwindling of the international assistance that they used to receive regularly from Spain and France, the elderly man said. Today, even Khadija Hamdi, Abdelaziz's spouse, who used to travel to these countries to collect the assistance, complained that over the last six months, she returned empty-handed from her trips abroad.