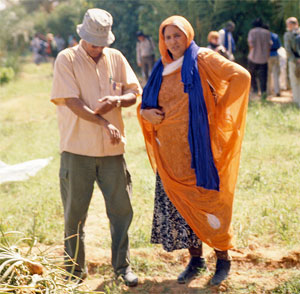 At the moment the international assistance destined to the Sahrawi populations of the Tindouf camps is plummeting in view of the economic crisis in Europe, a battle of clans is tearing apart the Polisario leadership.
The Sahrawi Minister of cooperation, El-Hadj Ahmed Ould Berkalla, who was in charge of the management of this foreign assistance, was recently forced to resign. Berkalla, who has been assigned to positions abroad for a long time before being called back to the Polisario headquarters in the camp of Rabouni, has seemingly thrown in the towel to protest the diktat and authoritarianism of Mohamed Abdelaziz, president of the SADR and leader of the Polisario Front, and of his Prime Minister, Abdelkader Taleb Omar.
Before he resigned, the Sahrawi Minister of Cooperation repeatedly sounded the alarm as to "the difficult situation" prevailing in the refugee camps because "of the drop of humanitarian aid", mainly the one donated by Spain and the Canary Islands. An activist of the opposition, who is still holding a senior position in the Sahrawi military hierarchy, told "Polisario Confidential" over the phone that it is Mohamed Abdelaziz's wife, Khadija Hamdi, who planned everything to force Ould Berkalla to hand in his resignation.
Even though Khadija Hamdi, this Sahrawi of Algerian origin, whose father lives in the Algerian city of Tindouf, is Minister of Culture, she has always been keen on getting involved in international assistance.  She often travels to Europe and to the Gulf countries to collect assistance that she uses to her own personal benefits. Her well-padded bank accounts in Switzerland and in other tax havens are clear cut evidence to this embezzlement, the same source told us.
However, as the flow of international assistance was drying up, Khadija Hamdi had lately had several clashes with Berkalla who was denying her access to the assistance. To have direct control over this valuable windfall, she hatched a devilish plot putting in direct confrontation the Cooperation Minister,  newly appointed to the position during the Polisario 13 congress, and his immediate superiors who are no other than her husband Abdelaziz and the Prime Minister, Taleb Omar.
For the time being, Khadija Hamdi is devising schemes to take over the ministry of cooperation, a position which will finally give her a free hand to plunder the international assistances as she pleases, the same source said.