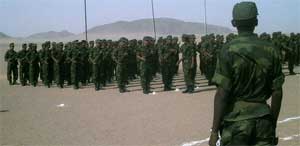 The talks of Manhasset III reuniting Morocco and the representatives of the Polisario Front will begin today, as big internal dissensions appeared within the team of negotiators of the Polisario concerning the Moroccan autonomy proposal. The Initiative is welcomed by one fraction of the Polisario Front who now wishes to discuss seriously the details of the proposal.Algier's Masters don't like this sudden change of position worsened by the fallen through of the last month congress movement reforms. The Algerians believe that the resolution of the Sahara conflict will weaken their position in the area. So, it is with big dissensions that the third round of negotiations between Morocco and the Polisario Front starts today under the UN auspice.
If 2007 was the year when Morocco gained diplomatic points for its large autonomy proposal, the 2008 year begins with crucial negotiations to find solutions responding to the requirements of the parties.
Indeed, since its congress, the guerrilla threatens to resume the armed struggle if they do not achieve full control of the Sahara, even if the ratio of force is largely in favor of Morocco. ..