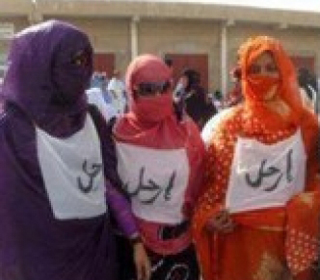 Several young Sahrawi demonstrators were injured on Thursday evening when Polisario troops opened fire at demonstrators who were staging a peaceful protest movement against Mohamed Abdelaziz, in front of the Polisario headquarters in the camp of Rabouni, credible sources said.
The wounded persons were taken to the hospital of the Rabouni camp, while the state of emergency was declared in the camp. Several demonstrators were arrested after the violent intervention of the Polisario servicemen.
Tension is palpable in the camp and military helicopters are permanently flowing over the area. Also, a general alert was declared in the airport of Tindouf, in Western Algerian. This outbreak of violence in the Sahrawi camps of Tindouf occurs after months of growing discontent against the Polisario leader, Mohamed Abdelaziz.
Protests by young people, gathered within the framework of a movement dubbed "Sahrawi Revolutionary Youth" (JRS), have become more and more frequent. The youth's anger is exacerbated by the shortage of products provided by humanitarian aid, as a large part of these products is embezzled by the Polisario Nomenklatura and sold in the markets of Sahel countries.
The disarray of the young people living in the Tindouf camps is all the more understandable as they are facing an endemic idleness and as they do not have any prospects or hope. These young people, and more particularly the active elements of the JRS, repeatedly accuse the Polisario leadership of treason. For them, Mohamed Abdelaziz failed in his mission as he led the Sahrawi cause to a dead end and condemned the Sahrawis to live on humanitarian assistance in unbearable conditions.
Most of the Sahrawis of Tindouf deem as unproductive the blocking by the Polisario leadership of the negotiation process with Morocco over the future of the Western Sahara.
The frustration prevailing inside the camps finds an echo in the ranks of the Polisario front, which continues to be undermined by resignations and dissensions. The sudden resignation of Haj ahmed Berkalla from his position as Minister of cooperation and the resignation of Aliine Kantaoui, representative of the Polisario in Sweden, are just the latest of a series of desertions of Polisario senior officials.