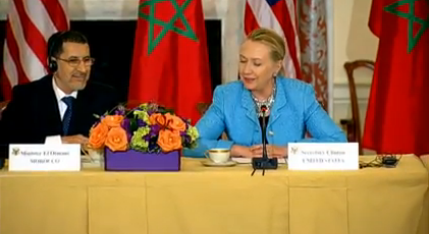 The Polisario leader Mohamed Abdelaziz has been going through hard times these past few days, according to well-informed sources in the Tindouf camps. The reason behind his troubles lies in recent remarks by U.S. Secretary of State Hillary Clinton, praising the Morocco-proposed Autonomy Plan for Western Sahara.
Mohamed Abdelaziz was not expecting such a violent backlash after the American Christopher Ross was confirmed in his position as UN mediator for the Sahara. The slap in Abdelaziz's face came from Washington, which reserved on September 13 a very warm welcome to the Moroccan Foreign Minister Saad eddine El Othmani.
In the presence of her Moroccan peer on a visit to Washington to launch a strategic dialogue between the two countries, the U.S. secretary of state described as "constant" the U.S. policy on the Western Sahara issue. Hillary Clinton said "the united states made it clear that the Moroccan autonomy Plan for Western Sahara is serious, realistic and credible."
Besides, the meeting on Moroccan-American dialogue was additional evidence that the United States valued the approach adopted by Morocco which anticipated changes and implemented bold political reforms in a troubled regional context.
U.S. officials actually consider Morocco as a stabilizing, vital element in an area at risk of destabilization.
The kidnappings of Westerners in the Sahel and the documented links existing between the kidnappers, the Polisario and trafficking networks have now made Americans and Europeans fully aware of what's going on in the region. A costly conclusion for Mohamed Abdelaziz, who is harshly criticized particularly on the part of officials of the DRS, the Algerian military intelligence services, who control the Sahrawi camps in Tindouf.
The DRS in fact hold Mohamed Abdelaziz fully responsible for the laxity and disorder that made it possible for terrorist groups to infiltrate the Polisario. This connection eventually tarnishes the image not only of the Polisario, but also of Algeria. And some nations like Spain and Italy are now urging their citizens not to go to Tindouf in south western Algeria.