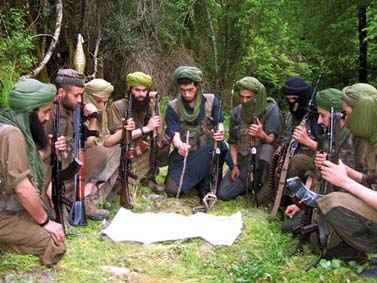 The growing number of young Sahrawis from the Tindouf camps joining the armed Islamist groups in northern Mali no longer goes unnoticed. A situation that is too disturbing to the Polisario leadership especially that it does not know how to dodge critical Western reports, according to informed sources in the Tindouf camps.
Reports of Western embassies in the region are crystal clear: more and more young Sahrawis join the ranks of the Islamist armed groups which control the northern parts of Mali. Coming from the Polisario camps in Tindouf, these new recruits have no problem to move across the desert porous borders between Algeria and Northern Mali.
The lack of progress towards a settlement of the Western Sahara issue and the lack of any bright prospects have plunged these young Sahrawis in despair. This is why, according to the reports, these young people, challenging the Polisario leadership, rally terrorist groups that have pledged allegiance to Al Qaeda.
Among the other reasons attracting these young people to jihad in the Sahel, the reports mention the large sums of money offered to new comers by the leaders of Ansar Dine, an ally of AQIM (Al Qaeda in the Islamic Maghreb) and Mujao (the Movement for Unity and Jihad in West Africa).
Moreover, the long-established relationship between jihadi leaders, who are former members of the Algerian GSPC, and elements of the Polisario are a determining factor, according to Western intelligence services. The jihadists are grateful for the valuable services rendered to them by Polisario members as links in the weapons, drugs and illegal sub-Saharan migrants trafficking networks.
They are also crucial in Westerners' kidnapping operations. One example of such operations is the abduction of three Western aid workers in the Polisario headquarters in Tindouf in October 2011. The hostages were released last July but only after their kidnappers got a 15 million euros ransom.