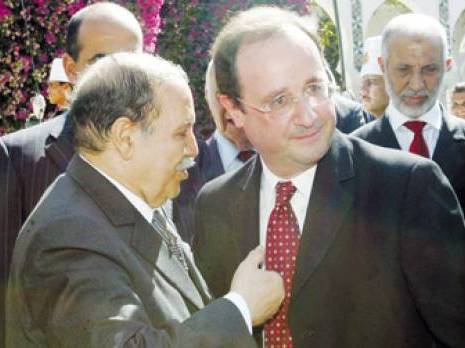 The statements made by French president François Hollande on the Western Sahara and the Morocco-proposed autonomy plan that he described as "interesting" have irritated Algiers and infuriated the Polisario chief, Mohamed Abdelaziz, informed sources in Tindouf said.
According to the same sources, the French President's statements were received with even more bitterness as they were made only few weeks before his planned visit to Algeria, his first as President of the Republic. On the Western Sahara issue, "France's position does not change," said the French president in a statement to the Paris-based weekly Jeune Afrique.
These statements are disappointing for Algiers which was hoping to see the Socialist François Hollande alter at least a little Paris' unwavering support to the Moroccan autonomy proposal. For the French head of state, the position of his country regarding the settlement of the Western Sahara conflict is based on "a UN resolution and the autonomy plan." A plan that is certainly "interesting," he said while regretting that the plan "does not progress."
For the Polisario and Algeria, the statements are a diplomatic setback. This setback is to be added to the draft resolution that was adopted by the UN General Assembly Fourth Commission and that was not favorable to the Polisario and its mentors. Indeed, the draft supports the negotiations process initiated by the Security Council in 2007.
This date corresponds to the presentation by Morocco of its autonomy proposal for the settlement of the regional dispute over the Western Sahara. The proposal put the negotiations back on track after a years-long deadlock.
Since then, the autonomy plan has constantly been regarded by the major Western capitals and the international community as a serious and credible basis for negotiations that are likely to lead to a settlement of the Western Sahara conflict.