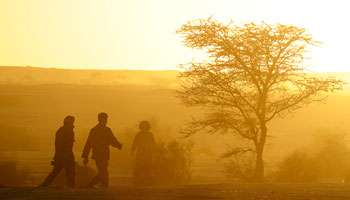 According to informed sources in Tindouf, agitation has been at its height in the Polisario headquarters in Algeria since the AFP announced that hundreds of jihadists from Tindouf arrived over the weekend in northern Mali to lend a helping hand to the Islamist armed groups which control the region.
The announcement of the jihadists' arrival in northern Mali embarrassed the Polisario leaders as well as senior officers of the DRS, the Algerian military intelligence services that control the Polisario camps in Algeria. Their discomfiture is all the more great that neither the Polisario leadership nor the DRS know how to retort to the devastating news.
The news confirm anyways previous documented evidence revealing the existence of links between members of the Polisario and terrorist groups such as AQIM, Ansar Dine, and Mujao which are terrorizing northern Mali and other parts of the Sahel. Furthermore, the arrival of Polisario elements and other fighters from Sudan took place after it has been confirmed that ECOWAS military intervention in northern Mali to dislodge the Islamist armed groups is more likely.
The intervention of some 3,300 African military has actually become more likely after the meeting held last Friday in Bamako. As it is impossible to make a distinction between the groups with which it is possible to engage negotiations, Mali's neighboring countries and its international partners, including France, have announced their "solidarity" with the Malian government in its efforts to recover the northern parts of the country. Although Paris has clearly ruled out sending French troops on the ground, President François Hollande assured Malian authorities of his country's logistical, technical and material support.
This is precisely where the shoe pinches the Polisario leader and more especially the DRS, which fears that the finger be pointed at it, according to the same sources. More importantly, the participation of Polisario members in the fight alongside jihadists in northern Mali, can easily be aligned on Algiers' fierce opposition to any foreign intervention in Mali.