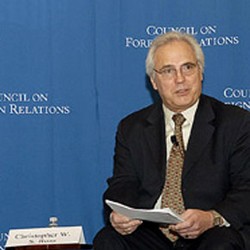 Christopher Ross was clear about the sensitive character of his role as UN mediator in the Western Sahara conflict. The UN envoy actually acknowledged, at a meeting in Rabat with Moroccan civil society militants, that he was on a razor's edge in his delicate mission seeking to unblock the negotiations.
Christopher Ross knows perfectly well that at the slightest misstep, he may suffer the same fate as his predecessor, Peter Van Walsum. In 2008, indeed, this UN mediator had been pressed by Algiers, and to a lesser extent by the Polisario, to step down after he came to the conclusion that the option of independence for Western Sahara was unrealistic. To avoid a repetition of the Van Walsum scenario, Christopher Ross therefore refrains from showing any support for the Morocco-proposed Autonomy plan, in order not to irritate Algiers as did the Dutch mediator.
But at the same time, Christopher Ross, who is too wary to distance himself from Rabat's proposal, seems too complacent with the standpoints of the Polisario, which are notoriously dictated by Algiers.
Consequently, he has focused his attention on the marginal issue of attempts to revise the MINURSO prerogatives, setting aside the main objective of resuming the negotiations on a realistic basis, as recommended by the Security Council. The justification put forward is the fact that he was stuck in the deadlock of the informal negotiations which were going around in circles. Now that things have been clarified as to the ultimate goal of the negotiations, Ross resumes his mediation role, keeping in mind the Security Council resolutions.
However, Christopher Ross is now forced to maneuver skillfully, knowing that the Moroccan autonomy proposal is considered a solid basis for negotiation by the international community and the major powers, including the United States, and the US Secretary of State Hillary Clinton who renewed last September 13 Washington's position on the issue. "The United States made it clear that the Moroccan autonomy plan for Western Sahara is serious, realistic and credible," the U.S. official had then insisted.