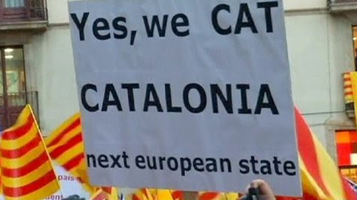 Since the Catalans, led by nationalist Artur Mas, started claiming more and more vehemently the independence of Catalonia, the members of the Spanish cabinet have banished from their speech the word self-determination.
Spanish Foreign Minister, Jose Manuel Garcia-Margallo, has flatly rejected any possibility to organize a self-determination referendum in Catalonia, as suggested by the outgoing president of the province and candidate to the early elections of November 25, Artur Mas. This rejection reinforces the new strategy of the central government in Madrid, led by the conservative Popular Party, on the Western Sahara issue.
Actually, since the government of Mariano Rajoy took the reins of power, the Popular Party, that had supported in the past the Polisario's theses calling for a self-determination referendum on the future of Western Sahara, has turned its back on the Polisario separatists and the majority of the cabinet members avoid to use the word self-determination when they raise the question of Western Sahara.
Only few Spanish civil society activists still voice support to the Polisario separatist aspirations, the way they support the independentists of Catalonia, the Basque Country or Galicia.
As far as the Spanish Government is concerned, it has clearly and repeatedly voiced its support for the UN-led efforts seeking to find a just, lasting political solution mutually acceptable to all parties to the conflict.
According to a former Spanish diplomat who is now well versed in geo-strategic studies, the Popular Party's position can be explained, firstly, by fear to see the separatist contagion spreading, and secondly, by the desire to preserve Spain's economic interests in Morocco, as these interests are of paramount importance especially in these times of crisis.
This attitude makes sense, argues the former diplomat, when we know that the Western Sahara was under Spanish dominion and that the Spaniards know better than anyone that this territory was part of Moroccan territory before it was colonized. Actually, it is no more or less than an acknowledgement of debt.