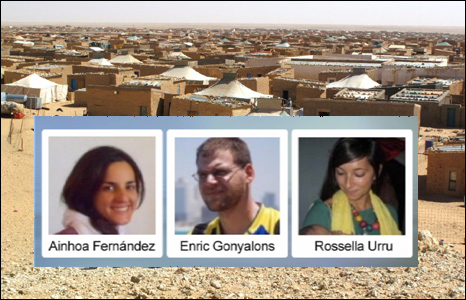 The Sahrawi refugee camps in Tindouf have never been as cordoned as they are today. According to a dissident close to the Sahrawi rebel singer Najem Allal, persistent rumors have been circulating for months about ongoing scheming to kidnap other Western volunteers operating in the camps.
The dissident, member of the Forum of Support to Tindouf Autonomists, said that the head of the Polisario Front, Mohamed Abdelaziz, has been informed by his security services of the plot and hurried to inform in turn the command of the Algerian Intelligence and Security Services (DRS). The DRS has ordered the Polisario leadership to raise the alert to the maximum level.
The Polisario leaders do not want to be associated with any abduction as was the case in October 2011 when three European humanitarian workers were kidnapped from the Hassi Rabouni camp, reportedly with the connivance of Polisario members.
To prevent suspicious persons from Mali or Mauritania to sneak into the camps, the Algerian People's Army deployed huge means to build, in a record time, sand walls around each refugee camp, the dissident said, adding that today, no one can enter or leave the camps without going through a checkpoint and being checked by joint units composed of elements of the Polisario and the Algerian Army.
After sunset, a genuine curfew is imposed in all camps where mobile units roam all night long, to verify the identity of the few people who venture out of their homes without the pass issued by the Algerian army. DRS agents in plain clothes regularly raid the camps to monitor the situation and draft reports on the basis of information collected from the population.
Vehicles coming from Mauritania or Algerian neighboring regions to supply the camps with goods and food are thoroughly searched by the Algerian Army units, before being escorted to their destination by Polisario armed militia.
The new rigorous security apparatus has made the situation even more unbearable in the camps where people mostly complain about the restrictions imposed on them to go to the city of Tindouf, as they used to, to shop for food, the same source said.