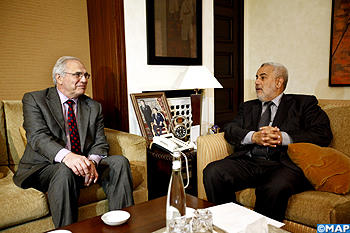 On the eve of his new tour in the Maghreb, the UN mediator in the Western Sahara issue, Christopher Ross, seems quite bushed to see his hope to bring the negotiations process out of the deadlock frustrated by an insurmountable wall.
On the one hand, Christopher Ross who starts his tour in Algeria, Morocco and Mauritania on March 20 knows that the head of the Moroccan government, the Islamist Abdelilah Benkirane, has clear cut positions on the issue.
Benkirane upholds that the Western Sahara conflict remains a purely bilateral rivalry between Morocco and Algeria, and if the Polisario plays any role in this issue, it is only thanks to the goodwill of Algiers. For Benkirane, the Algerian power is hosting the Polisario on its territory and the Algerian power is supporting it on the military, political and diplomatic scales.
Besides, Algerian petrodollars finance the travels of Polisario officials who have all Algerian travel documents.
Abdelilah Benkirane and his ruling party, the PJD, firmly believe that the Western Sahara conflict can be resolved over night and that it all depends on Algerian authorities' will.
On the other hand, Christopher Ross is fully aware of the great influence of a second protagonist that is on the other side of the border: the Algerian DRS or military intelligence services, whose leaders are no less adamant on the issue. The UN mediator knows that the key to the problem is at the hands of these services.
Not only do they control everything in the Polisario headquarters in Tindouf, but more importantly, they determine all the polisario's stands in the Western Sahara issue.
The task is therefore quite difficult, and to make matters worse, Christopher Ross has committed a blunder on the eve of his new tour.
Ross actually participated in a pro-Polisario event in New York and thus incurred the wrath of the PJD.
A PJD MP, Amina Maa al-Aïnine, a Sahara native, who was present at the event has strongly condemned the behavior of Ross, who is supposed to show, as a mediator, a minimum of reservation and neutrality.