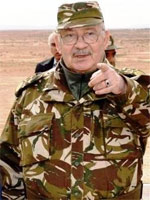 A source close to the leadership of the Polisario Frente declared that two members of the delegation in charge of negotiations with Morocco would have met Monday January 14 with Algerian secret services agents (DRS), as well as diplomats in relation with the MINURSO. The purpose of the meeting was to think of a strategy which will be adopted by the Polisario Frente at the fourth round of negotiations with Morocco, scheduled in March 2008 in Manhasset. This meeting, which would have been held in a surging climate, was to determine if the Polisario must change its strategy and agree to discuss with the Moroccan representatives the autonomy initiative, or to continue to be unaware of the Moroccan proposal, confining at the requests of reactivation of the plan Baker II, which recommends five years transitional period before the organization of a referendum.
The Problem encountered by the Polisario is the decision of the MINURSO to carry out a new census of the populations living in the camps, which would be likely to contradict the official figures advanced by the direction of the Front resulting in the reduction of humanitarian aid. Indeed, the UN experts, according to internal sources, should have recourse to the imagery satellite to carry out a precise account of the sahraouis living in the camps
There is a real line of fracture between the Polisario Frente and the masters of Algiers, who insist that the hard line remains prevalent and that the Moroccan autonomy plan not to be discussed during the Manhasset negotiations.
The meeting would have finished abruptly when one of the Polisario negotiators, exceeded, would have left the place after having insulted the other participants.