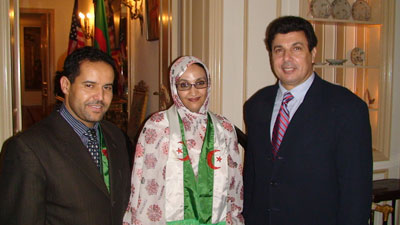 A delegation of the Algerian Committee of solidarity with the Polisario is currently visiting the United States to reward the lobbyists upholding the cause of the independentist front.
The trip is taking place just few days after a document referring to a "financial support (from Algeria) to be provided to the Sahrawi militants in the occupied territories (Western Sahara)" was circulated on social networks.
A delegation of the Algerian National Committee of Solidarity with the Sahrawi People (CNASPS) actually flew earlier this week to the United States for contacts with pro-Polisario Congressmen and NGOs.
The Algerian delegation, made up of CNASPS vice president, Tayeb Zitouni, and committee member, former athlete Hassiba Boulmerka, was received in Washington on Tuesday by some members of the House of Representatives, President of the U.S.-Western Sahara association, Suzanne Scholte and executive of the Kennedy Center Foundation, Marselha Gonçalves Margerin. These two NGOs are both known for their support for the Polisario Front.
Officially, discussions focused on the latest developments of the Western Sahara conflict and on the Polisario leadership's expectations with regard to the two NGOs' future actions.
However, a U.S. source that attended these meetings revealed, on condition of anonymity, that Tayeb Zitouni offered the John F. Kennedy Library and Museum literary works and Algerian handicraft items. But that was not all, he also gave to Gonçalves Margerin an American Express travellers' check, the source said.
According to the same source, which did not unveil the amount given, the check was donated to the Kennedy foundation in payment of its pro-Polisario lobbying services in the United States and at the United Nations.
The source has not however disclosed whether the US-Western Sahara association has also benefited from Algeria's largesse.
On the other hand, Sahrawi sources said CNASPS does not disburse a penny from its own coffers, but finances such missions with cash directly given by the Algerian military Intelligence and Security services (DRS).
The Sahrawi activist Aminatou Haider does know something about these practices. Witnesses in Western Sahara have actually reported that Aminatou Haider had paid young Sahrawis so they commit provocative acts against the Moroccan law enforcement forces, after the Security Council renewed the MINURSO mandate on April 15.