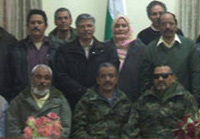 Two DRS (the main Algerian Intelligence Agency) senior officers, Polisario Front security services and security Algerian officers had a meeting Monday January 28, 2008. From a close source to the Front Polisario "Polisario Confidential" had learned that security was largely reinforced in Tindouf area. Following the increase of insecurity in the Algerian Sahara and the threats against oil installations, it was decided to reinforce control at the checks-points giving access to Rabouni (administrative PC of the Front) and to the entry to the camp called "February 27". Displacements of the populations living in the camps were also limited until "further instructions".
According to several concordant sources, the Polisario would fear acts of vandalisms from Islamist groups evolving in the Sahel, after MINURSO Transmission equipment was stolen last December and several threats were recorded by the Algerian secret services. The Polisario Front decided to control Also journalists who carry out reports on the camps, following the Australian reporters Violeta Ayala and Daniel Fallshaw charges for slavery.
These measures are intended to freeze the internal contestations and to limit access to the camps… A visit to the region of the UN Secretary General personal representative, Julian Harston, is scheduled for the next weeks.