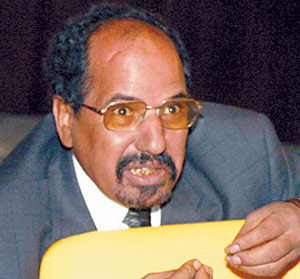 The statements made by Member of the European Parliament María Muñiz, during a recent visit to Western Sahara dealt a blow to the Polisario and triggered a hysterical reaction on the part of Mohamed Abdelaziz. According to informed sources in Tindouf, the Polisario leader got very angry after he heard the statements María Muñiz, who was visiting Western Sahara part of a European Parliamentary delegation, made to Spanish news agency EFE.
To a question on the European delegation's impressions during the visit, María Muñiz simply said to have perceived "an open atmosphere" in Western Sahara.
But what angered the Polisario most, is when the EMP told EFE that the Morocco-proposed autonomy plan was a credible alternative to a settlement of the Western Sahara. This was enough to flare up the Polisario leader.
From the Polisario headquarters in Tindouf in Algeria, Mohamed Abdelaziz insulted the MEP, put her down and called her names, according to the same sources.
The anger of the Polisario leader can easily be understood however. Actually both the Polisario and its mentor Algeria were expecting a lot from the visit of the group of the Alliance of Socialists and Democrats (S & D) of the European Parliament. While they were looking ahead to hear the delegation members criticize the situation of human rights in Western Sahara, María Muñiz said just the contrary.
Dismayed and frustrated, Mohamed Abdelaziz asked his representative in Europe, Mohamed Sidati, to issue a statement of indignation, but the statement went unnoticed and the protest unheeded.