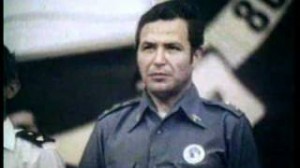 As tradition goes, the anniversary of Algeria's independence is an opportunity to organize some ceremonies to cheer the Polisario leaders. This year, 51,000 flags of the puppet Sahrawi republic were given to the friends of Mohamed Abdelaziz, as a symbol of 51 years of Algerian independence.
This anecdotal ceremonial, pompously announced by APS, the Algerian official news agency, has almost overshadowed another much more serious event. Actually, while Algerian officials were publicly exchanging pleasantries with executives of the Polisario Front, the DRS, the Algerian military intelligence services, were handling secretly far more serious matters.
According to informed sources in Tindouf, the obscure general Taoufik Médiène, who is at the head of the DRS, gave instructions to the Prime Minister Abdelmalek Sellal to earmark no less than $300 million, to finance the purchase of new weapons and logistic equipment for the Polisario.
The weapons destined to the Algeria-based Polisario which is claiming the independence of Western Sahara reportedly include anti-tank and anti-aircraft missiles.
The goal of these new acquisitions is twofold, according to the same sources.
On the one hand, the DRS seek to strengthen the firepower of the Polisario against Morocco which has just modernized its aircraft fleet by acquiring 24 new F16 aircraft.
On the other hand, General Médiène remains faithfully attached to his doctrine that Algeria must maintain constant pressure on Morocco on two fronts at the same time: On the diplomatic front, through lavish funding of NGOs in Europe and the United States to lobby for the independence of Western Sahara, and on the military front, through arming heavily the Polisario Front.
In this regard, the DRS boss is said to have been insisting on arming the Polisario more than ever before since the collapse of Gaddafi's regime which was the main supplier of sophisticated weapons to the Polisario.