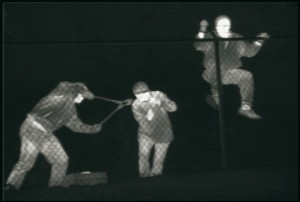 The Polisario leader Mohamed Abdelaziz became hysterical after the leak of classified information about the purchase by the Algerian military intelligence services (DRS) of sophisticated monitoring equipment destined to tighten control over the Sahrawi camps in Tindouf.
According to informed sources in the Polisario headquarters in Tindouf, the front leader learnt about the DRS monitoring project and about the large quantity of equipment received several weeks ago.
The equipment consists of highly sophisticated thermal monitoring devices to be deployed in all the Polisario-controlled camps. According to the DRS, the monitoring operation is necessary to prevent infiltrations of many "uncontrolled" elements.
The kidnapping of two Spaniards and an Italian in October 2011 from the Polisario headquarters in Algeria is only the most publicized incident because the hostages were Westerners. Many other incidents involving Polisario traffickers occur regularly. These polisario elements are involved in drug, cigarette and human trafficking, and have connections with the terrorist groups that roam the Sahara-Sahel desert areas.
The Polisario leader, who has grown accustomed to the fait accompli imposed by the DRS, had no room to be choosy. So, he did not raise any objections to the restrictions that such monitoring would impose inevitably on all the Sahrawis in Tindouf, in matters of freedom of movement and travel.
What he feared most was the leak of this information that would further tarnish his already tainted image in Tindouf. This information actually confirms the belief of the majority of Sahrawis living in the Algeria-based camps that the Polisario chief and his top lieutenants are mere puppets in the hands of the DRS.