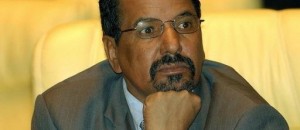 Mohamed Abdelaziz had hard time after the recent cabinet reshuffle conducted by ailing President Bouteflika who clipped the wings of the Algerian Military Intelligence Services (DRS), one of the main supporters of the Polisario in Algeria.
However, even if many DRS senior officers were discharged, the Polisario leader shortly afterwards sighed with relief, after he received assurances that his front will continue to receive all the military, financial and political assistance it needs, according to informed sources in Tindouf, the Polisario's stronghold in Algeria.
Senior officers of the DRS, which constitute a state within the state, have reportedly told the Polisario leader that the assistance he gets will even increase significantly, the same sources said.
The amounts injected into the Polisario's military, administrative and propaganda apparatus are never disclosed, being one of the best kept secrets in Algeria.
The planned increase of the financial aid is surely intended to back the Polisario's actions in Western Sahara and at the diplomatic scale to increase pressure on Morocco, according to the same sources who underlined that the cabinet reshuffle and the changes operated at the DRS will not affect the Sahrawi front.
Until things become clearer and until the senior officers and the contenders to Bouteflika's succession recover from the shock of the sudden changes of the Algerian political, military and security apparatus, the Polisario leader was ordered to keep a low profile, said the same sources that are usually well informed about Mohamed Abdelaziz's whereabouts and plans.