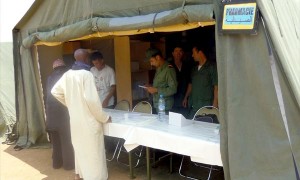 The recent inauguration of the new Malian President Ibrahim Boubacar Keita was taken very badly by the Polisario leadership.
The Polisario leader, Mohamed Abdelaziz, actually blew hip top for having been knowingly left out of the guest list and according to informed sources in Tindouf, the Polisario HQ in Algeria, he has not swallowed yet the serious snub.
Even Algiers was unable to do anything to come to his rescue. The clarification request addressed by the Algerian Ministry of Foreign Affairs to the new authorities in Bamako remained unanswered.
After he got used to being invited to African gatherings thanks to Algerian petro-dollars, Mohamed Abdelaziz is currently in bad times.
The Polisario leader's bad times actually began with the fall of the Gaddafi regime. He was fond of the Libyan dictator and loved to take pictures at his side. All this belongs to the past…Mohamed Abdelaziz is alone out in the wilderness.
The tide has turned and in most sub-Saharan and West African countries, the leader of the Algerian-backed separatist front is declared, formally or implicitly, persona non grata.
Of course, the Polisario knows that the powerful DRS, the Algerian military intelligence services, will continue to lavishly support it in the battle it is waging against Morocco in Western Sahara. But its members are increasingly concerned about the Front's fading presence in sub-Saharan Africa and in Africa in general.
The situation is worrying the Polisario leaders who realize that the front is paying the costs as Algeria is losing ground in the Sahel. The inauguration ceremony of Mali's new president IBK translates the separatists' diplomatic setbacks in the continent.