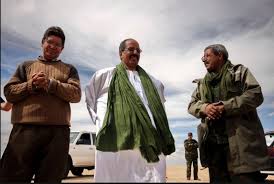 Few days before Christopher Ross, the UN Secretary General's Personal envoy for the Sahara, started his current tour in the Maghreb, Mohamed Abdelaziz hastily summoned his lieutenants for a meeting in the Polisario's headquarters in the Rabouni camp.
The Polisario leader was in a rush for good reason. According to sources from the Tindouf camps, he had to pass on instructions of the utmost importance to his companions.
The new instructions were conveyed to him by a senior member of the DRS, the Algerian military intelligence services. The DRS control the Polisario and all matters, big or small, concerning the Western Sahara issue.
The DRS new guidelines have been carefully developed in close coordination with the new Algerian Foreign Minister Ramtane Lamamra. According to the same sources, these instructions were about staging a new diplomatic and media campaign to revive the idea of a referendum.
Algiers deemed it necessary to renew focus on the referendum option after it realized the very limited impact of its anti-Moroccan campaigns on alleged violations of human rights in Western Sahara and on exploitation of the natural resources of the disputed territory.
The new Algerian Foreign Minister knows perfectly well that Algeria will never succeed in gaining the international powers' support for its extravagant idea: set up a republic in the Sahara. So, he preferred to change his tactics and revive the referendum option, although this option had stalled the settlement process for over a decade.
Lamamra actually wants to kill two birds with one stone. On the one hand, undermine the Moroccan autonomy plan for Western Sahara, which is backed by the international community, much to Algiers' discontent.
On the other, let the Western Sahara issue drag on as a thorn in Morocco's side and at the same time preserve Algeria's ambitions in the region. No wonder then why Algiers' new shift is coinciding with Christopher Ross's tour in the region: a way to blur things even further.