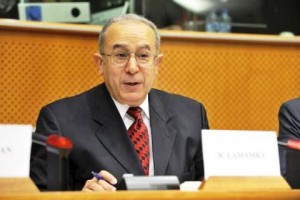 It has become clear now that the Algerian President's move to appoint Ramtane Lamamra Foreign Affairs Minister was not unintentional. It was a rather deliberate decision that is part of the new Algerian diplomatic offensive with regard to the Western Sahara issue. The Abuja meeting is just the launch of such an offensive.
President Bouteflika would have hardly found a better man for the task. Ramtane Lamamra, a veteran of Algerian diplomacy, has proven his effectiveness in the corridors of the African Union. The Algerian president gave "carte blanche" to his new Foreign Minister and put at his disposal a slush fund of tens of millions of dollars and euros, according to informed sources in Algiers.
In this respect, Algeria has paid for all the expenses of the meeting held in Abuja to revive support for the Polisario among some English-speaking African countries, the same sources said.
It is true that the Algeria-backed Sahrawi Front, which is claiming the independence of Western Sahara, was in dire need of help, especially after many countries, including in Africa, expressed support to the Morocco-proposed autonomy plan for Western Sahara.
Hurt by the turn of events and the breakthroughs made by Morocco in West Africa and the Sahel, President Bouteflika has not fully recovered from the stroke he had had in April that he set to work to recover some of the lost ground.
In a very spiteful response to Morocco's successes, Algiers organized the Abuja meeting.
According to the same sources, President Bouteflika and the generals of the Algerian Military Intelligence Services are overwhelmed by the turn the Western Sahara issue is taking in Europe.
No European country, including France and Spain, the former colonial power, nor even Russia take seriously Algeria's scheme to set up a republic for a few thousand people in the Sahara.
Part of their reckless headlong pursuit of their strategy, Algerians decided to hold other meetings similar to the one convened in Abuja.
The coming such meeting is scheduled to be held in Algiers in December and of course the topic bears no surprise for those who know Algiers' obsession with Morocco and its Sahara: "the right of peoples to resistance, Western Sahara as a study case".