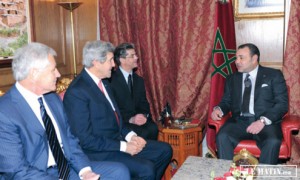 Mohamed Abdelaziz is in disarray. According to informed sources in Tindouf, the Polisario leader is in low spirits because of the incidence of the visit of King Mohammed VI of Morocco in the United States, which has propelled Algeria as the main protagonist in the Western Sahara conflict, sidelining the Sahrawi separatist Front.
One of the reasons of the Polisario chief's bitterness is that several U.S. officials and diplomats have approached President Obama, who is meeting the Moroccan sovereign on Friday at the White House, urging him to build on the close partnership between the two countries to consolidate their strategic bonds and to support the Morocco-proposed autonomy plan for Western Sahara.
The call launched in this respect by nine former ambassadors who represented the United States in Morocco over the last three decades was crystal clear in a joint letter they sent to the U.S. President.
Connoisseurs of the Maghreb and of the genesis of the Western Sahara conflict, these diplomats have openly recommended the American President to support the Moroccan autonomy proposal, a plan that Algeria has stubbornly rejected, upholding instead the creation of a whimsical Republic in the Sahara.
These diplomats were not however the only ones who openly revealed the full involvement of Algeria in the Western Sahara conflict, and consequently the genuine role of the Polisario which is a mere auxiliary of the Algerian generals, particularly the brass of the DRS, the Algerian military intelligence services.
Influential members of Congress also approached President Barack Obama in the same vein, exposing implicitly that the Western Sahara conflict is merely a facet of the long rivalry between Algeria and Morocco.
Algerian leaders are actually sparing no effort to kindle their enmity towards their neighbour to divert attention from the political deadlock facing up their country at the internal scale.
And what about the Polisario? It is spectacularly ignored by officials, Congressmen and diplomats much to the discontent of Mohamed Abdelaziz.