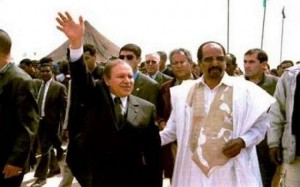 Well-informed sources in the Tindouf camps, stronghold of the Polisario in Algeria, told Polisario-Confidential that the Algerian military intelligence services (DRS) have decided to react to the series of diplomatic setbacks they have recently suffered by reviving anti-Moroccan activism in Western Sahara.
According to these sources, senior DRS officers are conducting intense training and indoctrination exercises attended by young Sahrawis part of their preparation to ignite new unrest in Western Sahara.
The Algerian DRS, which have the upper hand in all matters concerning the Polisario and the Western Sahara case, have even organized a meeting of these young people under the cover of the congress of the Union of Saharawi youth.
The approach is simple: train young Sahrawis to provoke the Moroccan police by throwing stones and firebombs and by destroying public and private property in the Southern provinces. The objective is to lead the police to intervene, film the incidences and then post the videos on Internet and social networks. The scenario does not stop there, since the fabricated videos will be used to back the allegations of Algeria and the Polisario about the existence of daily violations of human rights in Western Sahara.
The Algerian leaders continue to base their arguments on the issue of human rights in Western Sahara because they have reached two conclusions: the necessity to stop or at least limit the growing international support for the Moroccan autonomy plan on the one hand, and the need to create turmoil in the cities of Western Sahara, on the other, explain the same sources
Algerian officials are realizing that time is not in their favor particularly after many African countries voiced backing to the Moroccan autonomy plan, and after the U.S. Administration renewed support to the plan on the occasion of the visit of King Mohammed VI to the United States last November.
Besides, the Algerian leaders are infuriated because after almost 40 years of their proclamation, neither the Polisario nor the Sahrawi republic succeeded to gain international recognition. Whether at the UN, the Arab League, the Security Council or in major international capitals, the two entities created unilaterally by Algiers are ignored.
But what adds to the Algerian leaders' anger is that Algeria is now seen internationally as Morocco's main opponent in the Western Sahara conflict, the Polisario Front being nothing more than a puppet, the same sources commented.