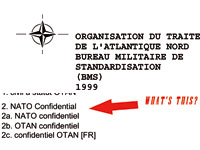 Contrary to what has been carried by some media, "confidential" classification exists within the North Atlantic Treaty Organization as
this internal document
(on page 151) attests it. This document is published this week by Polisario-Confidential and is
available on the official site
of the Organization.
The Spokesman of NATO, James Appathurai, asserted two weeks ago in an Algerian newspaper that "confidential classification"(…) is not a classification of NATO", and went after Polisario-Confidential publication of a document emanating from the NATO's College of Defense which demonstrated the Algerian responsibility in the Sahara conflict, corroborant, according to an expert, Algiers strategy for regional domination.
We understand that NATO doesn't like to be shaken up, but when Mr. James Appathurai insists that "Confidential classification" does not exist, we are entitled to ask legitimate questions about the impartiality of the spokesman of an organization that is supposed to observe the strictest neutrality towards conflicts which is not in its zone of operations.
It is interesting to analyze in-depth the main reasons of the Spokesman's denial: precipitation? Wish to please? Lack of knowledge of NATO's classification system? All suppositions at this stage are permitted, so much the media intervention of Mr. Appathurai looked… opportune.
What NATO is going to do with its "College of defense"? Disunite from it, disavow it? This assumption seems impossible given the importance of this structure of reflexion and its international impact.