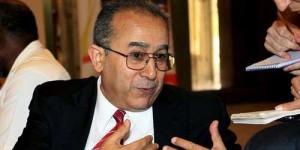 The frenzied campaign that has been staged for several days by the Polisario media and the Algerian propaganda on an alleged insurgency in Western Sahara is not motivated by the approaching UN annual vote only, according to a well informed source in Tindouf.
The Sahrawis living in the Tindouf camps are not fooled and know perfectly well that all this media frenzy is orchestrated by Ramtane Lamamra, said the same source.
The Algerian Foreign Minister decided to react vigorously, in close coordination with the Algerian military intelligence services (DRS) which have the upper hand on everything related to the Polisario and to the Sahara issue.
Exasperated by the diplomatic successes scored by Morocco thanks to its autonomy plan, Lamamra desperately wants to honor the pledges he made to President Bouteflika.
Actually when Bouteflika appointed Lamamra Foreign Minister in September 2013, he entrusted him with the specific mission to get things back on an even keel regarding the Algerian policy in the Sahara issue.
The "Mr. Africa" had therefore to put an end to the aimlessness Algeria was left into by his predecessor Mourad Medelci, particularly in Africa and Latin America. But Ramtane Lamamra's task is far from being easy, especially since the recognitions of the Sahrawi Republic have melted away like snow in a sunny day.
After they realized that the Polisario is a mere separatist Front funded and hosted by Algeria, many countries have backtracked. Over the past few months, Panama, Haiti, Paraguay, and most recently the Republic of Mauritius, withdrew their recognition of the SADR.
The disappointment of the Algerian leaders is all the more great as they were still relying on some countries to keep alive the idea of the Sahrawi Republic. For about 40 years, no member of the Security Council or any major capital in the world has backed the Algerians' plans and recognized their puppet SADR.
Lamamra's irritated reaction and the campaign of the Algerian propaganda machine that is put at the Polisario's disposal must be placed in this context of exasperation, comments the same source.