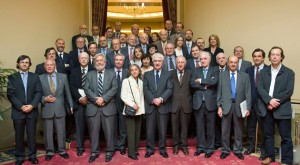 Mohamed Abdelaziz's attitude is usually egotistical and arrogant even when he is facing problems or difficulties. However, a report published recently by a renowned Spanish research center has unsettled and demoralized the Polisario chief, according to informed sources in Tindouf.
It is undeniable that this report is sufficient to irritate the Polisario and also the Algerian military intelligence services (DRS) since it was drafted by the Real Instituto Elcano, one of the most prestigious strategic analysis centers.
Furthermore, its conclusions are utterly opposed to the theses upheld by the separatist front and its Algerian mentors as it clearly underlines that the independence of Western Sahara is an "unsustainable" project.  Worse, the institute argues that the creation of a micro-state composed of few thousand people is likely to "jeopardize" the safety of the whole region and beyond.
The institute President, Emilio Lamo de Espinosa, recommends a solution based on large scale autonomy of the Western Sahara under Moroccan sovereignty. To this end, the institute deems that the international community has the duty to promote rapprochement between Algeria and Morocco, because this is the key to a final settlement.
"This has to be a top priority in Spanish foreign policy," insists Emilio Lamo De Espinosa.
Over 200 Spanish and international researchers and strategy experts in addition to many parliamentarians from various Spanish parties have contributed to the report.
That is why the publication of this report dealt a blow not only to the Polisario but also to the Algerian generals who created the separatist Front out of nothing, all the more so as Spain is, along with France, fully aware of the political conditions that led to the partition of Morocco into zones of French and Spanish influence in the late 19th century. At the time, neither the Polisario nor even Algeria existed.