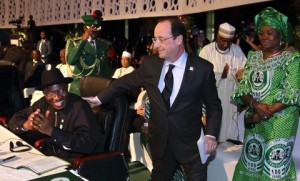 The circumstances of the precipitous departure of François Hollande from the official commemoration of Nigeria's unification Centennial have started to leak out. Contrary to what has been reported initially, the French president was aware that the Polisario chief would try to have a handshake with him. Therefore he was prepared to avoid the trap.
Diplomatic sources in Abuja told Polisario-Confidential that François Hollande, who was the guest of honor at the commemoration ceremony, has been informed, upon arrival in the Nigerian capital, by his services that Mohamed Abdelaziz would try to approach him.
Two things made the French Presidential aides and diplomats suspicious, the sources said.
First, the Polisario leader's usual methods consisting in taking pictures with heads of state and then in displaying these photos in the Algerian and Cuban media, part of his futile attempts to suggest an international recognition that he is far from gaining.
The second thing that raised the French diplomats' suspicion was the Algerian frantic diplomatic and media campaign that has been targeting France for over six months. The Algerian diplomacy and the Polisario have actually been endeavouring to crack or at least weaken France's support to Morocco in the Western Sahara issue.
So, even before François Hollande's arrival in the premises hosting the official ceremony, French diplomats in Abuja were on guard. They did not have much trouble spotting two photographers who looked nervous.
They were taking pictures here and there but seemed anxious as if they were waiting for something special. Actually, as soon as the Polisario leader began greeting the attending officials, the two photographers started capturing it all with their cameras.
At this moment, one of the French president's aides got closer to him and handed him a note, probably warning him that it was time for him to leave the ceremony to avoid coming across the separatists' leader, the diplomatic sources in Abuja said. And instead of a warm handshake, all that the Polisario leader got was the cold shoulder.