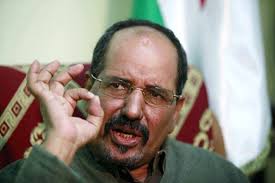 The exasperation expressed by the Polisario Leader after the Ivorian Minister of the Interior visited the town of Dakhla was more destined to make his way into the limelight than anything else, according to informed sources in Tindouf, which ensure that Mohamed Abdelaziz has resigned himself to the fact that more such messages from Africa are to be expected in the future.
If the visit of the Ivorian Minister Hamed Bakayoko to the second largest city in Western Sahara has surely irritated the Polisario, it had a deeper impact on Algerian rulers who perceived it as a tragedy, the sources said.
Immediately after the announcement of the Ivorian official's visit to Dakhla, Algiers ordered the Polisario leader to respond to the "insult", the sources said. In fact, Algiers' reaction to the visit, through the Polisario as an intermediate, was meant to hide another response that Algerian officials refrained from making so as not to betray themselves.
Algiers was actually incensed by King Mohammed VI's trip to the Saharan city of Dakhla. The trip was all the more symbolic since it took place at the very moment the Polisario and Algeria were trying to push up the stakes in the corridors of the UN about the issue of human rights in Western Sahara.
With such a clear message on the part of Morocco, the Polisario and Algeria are getting increasingly aware that nothing would ever be the same again regarding the Western Sahara issue. Morocco has made a marked comeback on the African scene, where many countries consider that the artificial Western Sahara regional conflict has lasted much too long.
The fabricated Sahrawi republic and the Polisario Front are two sides of the same coin issued during the Cold War era. The Polisario officials, who were formerly thrilled by the petrodollars generously distributed by Boumediene and Gaddafi to gain the support of some African capitals, are convinced today that this time is over, commented the same sources in Tindouf.