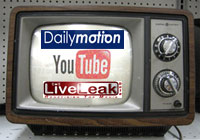 Refusing the law of the strongest and since solidarity always ends up triumphing; Moroccan Net surfers mobilized themselves to put back on the internet
the videos showing practices of slavery in Tindouf camps
. We recall that Algiers had put pressure on "Youtube" to withdraw the shocking report related to this matter.
The videos contain
exclusive testimonies of former slaves
as well as exclusive pictures of the Polisario Front camps located in the South-west of Algeria.
These videos had succeeded to mobilize thousands of Net surfers in a few days, before their removal because of a "copyright problem".
These videos could not fall at worse time for the Polisario, which is being engaged in direct negotiations with Morocco in Manhasset (Suburbs of New York).
Up to now, four rounds of discussions did not give any convincing results. The leaders of the Polisario Front refuse the contents of the "large autonomy plan" proposed by Rabat to the United Nations, which is however the key element to these directs talks.
It is thus a group of Net surfers, who starting from a forum, decided to take matter on hands and put back on line the "famous" slavery videos for the international community not to forget that the Sahara conflict is the combat of progress versus obscurantism.