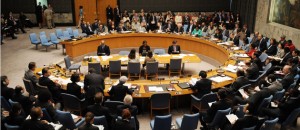 It is the Polisario chief who is bearing the brunt of the latest UN Security Council vote on the Western Sahara issue.
According to informed sources in Tindouf, after the vote, Algerian officials poured out their wrath on Mohamed Abdelaziz, holding his incompetence responsible of all the missteps accumulated by the separatist Front.
The outrage felt in Algiers is all the stronger that Algerian leaders had thrown all their forces in the human rights battle they had tried to ignite, according to the same sources. For more than four years, the primary objective of the Algerian diplomacy or rather its obsession had been to push the UN to expand the MINURSO mandate to human rights monitoring in Western Sahara.
However, the anti-Polisario protests that have been rocking and continue to enflame the Tindouf camps for several months have reversed the situation. Young Sahrawi dissidents have ignited a climate of rebellion against the Polisario leaders that they condemn for being totally subservient to Algiers.
The protesters, gathered in very active movements, such as Attaghyr Movement (Movement for change,) criticize the Polisario chief as being a vassal of the DRS, the Algerian military intelligence services, which have effective control over the Tindouf camps.
And despite the relentless crackdown against the dissidents, in addition to the permanent ban of all forms of freedom of expression or movement outside the camps, the Polisario has not managed to defuse the tension in the camps.
The vicious cycle of protests and repression in the camps attracted the attention of the UN and international NGOs on the abuses of the Polisario against the Tindouf camps populations, an embarrassing situation that the DRS was quick to pin on Mohamed Abdelaziz.