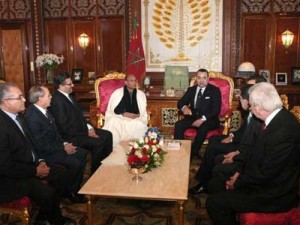 The Algerian intelligence services have been very embarrassed by the slap they were dealt by the Tunisian president, Moncef Marzouki, according to informed sources in Algiers.
Moncef Marzouki actually did not pull his punches when he accused "foreign parties" to be behind the rumors alleging there was a quarrel between himself and King Mohammed VI.
According to the same sources, even if the Tunisian president did not mention any names, senior officers of the Algerian military intelligence services (DRS) knew they were the target of his accusations, especially that the Tunisian head of state made it clear that the rumors were not the deed of some media just looking for scoops or sensational headlines.
Moncef Marzouk had clearly said that those who circulated the rumor about a clash between himself and the king had a specific purpose, that of "harming Tunisia's external relations with friendly countries."
The rumor about a quarrel between the Tunisian president and the king of Morocco over the Western Sahara issue was automatically imputed to Algerian authorities.
According to the same sources, this new blunder of the Algerian DRS is part of the new Algerian crusading against Morocco, besides its continuous pressures on the Polisario to block, at any cost, the settlement process in Western Sahara sponsored by the UN.
Just few days after the Tunisian president's blow, Algerian authorities had to deal with political scholar Khadija Mohsen-Finan who said in an interview that the Western Sahara issue impasse was caused by foreign parties.
Khadija Mohsen-Finan, a researcher at the Institute of International and Strategic Relations (IRIS), said the deadlock that has lasted for several years is instigated by foreign parties. The "powers, medium and large, have a responsibility in this inaction," said Khadija Mohsen-Finan. And as expected, the interview was immediately decried by the Algerian DRS-funded media.