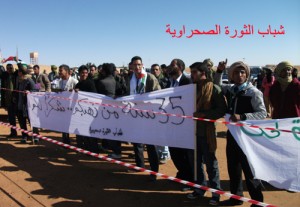 Veiled Sahrawi women participated in a demonstration staged last week in the Rabouni camp to denounce the Polisario leadership.
Dozens of demonstrators rallied a sit-in observed outside the offices of the United Nations High Commissioner for Refugees (UNHCR) to denounce the silence and inaction of international organizations and Algerian authorities in the face of the serious abuses and human rights violations committed by the Polisario in the Tindouf camps.
The Sahrawi protesters, including many activists of the Youth Movement for Change "MJPC," chanted slogans decrying the diktat imposed by the Polisario militia to the Tindouf camps civilian population.
Several Sahrawi women were brandishing banners denouncing the sexual harassment often faced by widows whenever they claim their ration of the international food assistance, which is often diverted and sold in the black market in neighboring countries.
A Sahrawi widow succeeded recently to send to the Moroccan regional TV station "Laayoune TV" a video wherein she denounced the misappropriation of international aid by the Polisario leaders and the inhumane practices perpetrated against the sequestered population in Tindouf, including sexual harassment.
She also urged international NGOs to investigate the grim abuses and violations committed by the Polisario torturers and jailers in the appalling "Al Rashid" prison.
During last week demonstrations, the Algerian military stationed in the Tindouf camps were as usual following the progress of the protest movement, ready to intervene in case things get out of hand, as it happened recently in "Laayoune camp."
Members of the Rguibates-Jenhas tribe had then taken to the street to protest the arrest of one of their sons, Ghilani Lahcen, a staunch opponent of the Polisario leadership. As the demonstration soon turned violent, Algerian soldiers intervened to calm things down and in order to avoid any escalation they secured the release of the Sahrawi opponent.