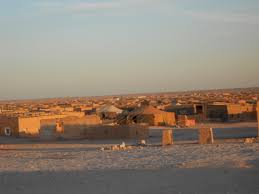 Joaquim Chissano did not think things would take a so humiliating turn. The former Mozambican president, who has been appointed unilaterally by the African Union mediator in the Western Sahara issue, was seriously embarrassed when his requests to visit Russia and China during this month were flatly rejected.
According to informed sources from the African Union corridors, Chissano was expecting a more considerate attitude from Moscow and Beijing after a similar request was turned down by Washington, London, Paris and Madrid. The African Union envoy's visit requests to these capitals had received a polite but firm response, the sources said.
The former Mozambican president was told that he could very well be received individually, but not in his capacity as African envoy.
The unanimous rejection expressed by major world capitals was driven by Morocco's clear-cut rejection of the AU initiative. Rabat deems that the African Union which has already taken sides on the Western Sahara issue when it admitted within its fold a whimsical Sahrawi republic has actually discredited itself and excluded itself from playing any role in this matter.
In a nutshell, for Morocco, the settlement of the Western Sahara issue falls within the exclusive scope of the UN and the Security Council, which are sponsoring a negotiation process and which deem that the "serious and credible" Morocco-proposed autonomy plan for Western Sahara constitutes a sound basis for the negotiations.
World capitals' response was therefore consistent with the UN stand. However, Joaquin Chissano was not the only one to be affected by this diplomatic affront that he was not expecting, explain the sources. The setback was felt even more bitterly in Algeria, whose Foreign Minister Ramtane Lamamra was the instigator of the African Union's, with the support of South Africa and Nigeria.