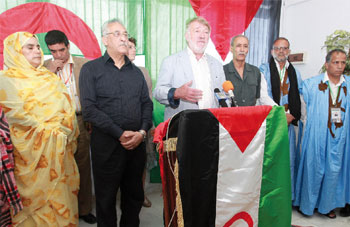 According to informed sources, Pierre Galand, a zealous supporter of the Polisario in Belgium, is planning a lengthy program of pro-Polisario activities in Europe all along 2015 for which he was already paid a first installment of € 5 million.
The bonanza is not the first of its kind to be given to the former Belgian MP and long-time Kingpin of EUCOCO (European Coordination Conference for Solidarity with the Saharawi people.)
Pierre Galand actually specialized in the organization of pro-Polisario events in various European countries. For each event, he spends lavishly on participants' travel and accommodation. His invitations go mostly to representatives of associations and NGOs dedicated to the cause of the Algeria-backed separatist Polisario Front.
This year's first installment of € 5 million will fund various communications and propaganda operations in Europe, commissioned by the Algerian military intelligence services (DRS), the sources said.
Moreover, Pierre Galand is reportedly involved in planning the meetings that the Polisario delegates across Europe are to hold in Brussels this September 19 to 21.
According to the same sources, these meetings agenda will be topped by ways of increasing diplomatic pressure, particularly at the level of the European Parliament and Commission.
Prior to the Brussels meetings, the Spanish capital, stronghold of European pro-Polisario associations and organizations, is to host on September 13, a meeting of all the Polisario representatives in Spain. The venue was chosen by the Polisario chief Mohamed Abdelaziz, at the instigation of the Algerian DRS, to launch the new propaganda campaign, the sources said.
Madrid is also due to host by mid-November the EUCOCO conference which is under the control of the Algerian DRS.