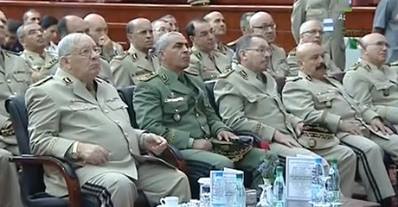 According to informed sources in Tindouf, the Polisario leader, Mohamed Abdelaziz, went through hard time when the Algerian presidency launched a large scale reshuffle operation within the Algerian security department and the Algerian military intelligence services (DRS). He breathed a sigh of relief only when it became clear that General Toufik, the powerful chief of the DRS and the genuine godparent of the Polisario, was maintained in his position.
The purge led by Bouteflika's clan was perceived by the Polisario leader and his lieutenants as a tsunami. The changes affected key positions and resulted in the departure of 11 generals. Mohamed Abdelaziz was very anxious that such changes at the DRS leadership might have an impact on the Polisario.
General Mohamed Mediene aka Toufik has been positioned at the head of the DRS for many years. According to the same sources, he is the genuine mentor of the Polisario leader and is the one who chooses Mohamed Abdelaziz's own cronies. He is also the decision-maker when it comes to dismissing any member of the Polisario leadership suspected of vowing some sympathy to Morocco or of backing the Moroccan autonomy plan for Western Sahara.
Moreover, Mohamed Abdelaziz is fully aware of the key role played by General Toufik's DRS in the preparation and supervision of all the pro-Polisario diplomatic and propaganda campaigns staged abroad. The General's men prove often more effective than some Algerian diplomats, particularly at the level of civil society activists and associations.
Part of the reshuffle operations conducted by Bouteflika's clan, the appointment of General Athman Tartag, one of General Toufik's fierce rivals, to the coveted position of presidential advisor did not seem to bother much the Polisario leader. Although relations were often tense between General Tartag, former DRS No. 2, and General Toufik, the Polisario leader succeeded to keep a good relationship with the new presidential adviser.