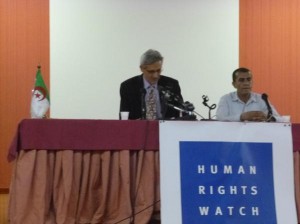 The sharp escalation between Morocco and Algeria, with Algerian military firing at Moroccan civilians at the border between the wo countries, is to be linked with the Human Rights Watch report that points the finger at Algeria and the Polisario for serious human rights violations, according to an informed source in Algiers.
The international NGO has actually openly accused the Polisario and Algeria in a report released on Saturday in Algiers. The Polisario Front, which is struggling, from its headquarters in Algeria, for the independence of Western Sahara, has been accused of perpetuating "the practice of slavery" in the Tindouf camps.
HRW also denounced the Polisario for using military courts as a deterrent implement against its opponents. As for Algeria, HRW called the North African country to "publicly acknowledge its own responsibility for ensuring respect for the rights of all persons on Algerian territory." "This includes intervening if and when human rights violations are taking place and ensuring that perpetrators are held responsible," said the NGO.
But what angered authorities in Algiers most is the fact that the international NGO gave as an example Morocco's experience of the Equity and Reconciliation Commission (IER), and deplored that Algeria has not set up a similar independent commission to investigate the massive killings and disappearances committed in the 1990s, said the source, adding that these remarks were badly accepted by Algerian presidency as well as by the military top brass.
Their anger is behind the border incident which also reflects the struggles being waged by the centers of power in Algeria, said the source, explaining that tension with Morocco is only an escapism for these internal struggles. The protagonists are trying to divert attention from the political vacuum in Algeria, where the health condition of President Bouteflika is a topic of general concern in the country.
The deadly clashes in Ghardaia, the surge of terrorist operations and the demonstrations staged by the police against the power have created a deep malaise that destabilized the authority.
These are all factors that prompt the ailing president's inner circles to try to focus public attention on Morocco, traditionally presented by the Algerian political spheres as the external enemy, says the same source.