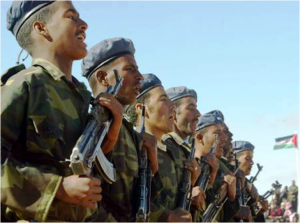 The pressure currently created by Algerian authorities endangers the entire region as the risk of a new conflict with countless consequences is looming.
The Polisario is beating the drums of war, a tactic meant to pressure the UN and the international community following the deadlock reached by the Western Sahara issue.
The Sahrawi separatist movement, which is claiming the independence of Western Sahara, is organizing November 25-December 5 military drills to train its militia to ways of crossing the security fence erected by the Moroccan army along the buffer zone controlled by the MINURSO since 1991, when the warring parties signed a cease-fire agreement under the auspices of the UN.
The exercises are the first major "military maneuvers" including live firing range work held by the Polisario since the entry into force of the cease-fire agreement on October 15, 1991.
According to a military attaché to a Western embassy in Rabat, the use of heavy artillery in these exercises gives the impression that the Algerian government, through the Polisario, actually seeks to increase pressure on the Moroccan neighbor.
He explained this escalation by the frustration felt by Algeria and its protégé the Polisario because of the poor results of their anti-Moroccan diplomatic campaign and their failure to gain international support in the regional geo-strategic dispute that has been opposing Rabat and Algiers for a long time.
The Algerian Army which has embarked on the renewal of its land, air and sea hardware gave to the Polisario much of its culled weapons.
For the military attaché, this is a warning sign as to the exact intentions of Algerian military strategists who probably seek to alleviate the impact of the failure of their country's diplomacy in its political-diplomatic battle against Morocco. So, they will possibly encourage the Polisario to resort again to an armed confrontation with Morocco in a desperate attempt to settle the territorial dispute over Western Sahara.
But according to the Western Military Attaché, this strategy shall involve Algeria in a regional conflict since the Polisario's contingency attacks against Morocco will be launched from the Algerian territory.