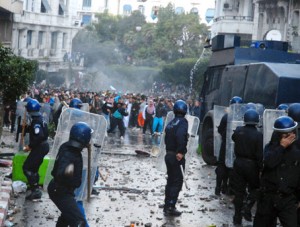 Well-informed sources in Algiers said that the media campaign which was staged by the Algerian military intelligence services (DRS) in a bid to hold Morocco responsible of the strong concern expressed by the European Union regarding the political situation in Algeria turned out to be a dismal fiasco.
Diplomats from the European Union have expressed, at a meeting held last week in Brussels with Algerian media, Europe's serious concern about the political situation in Algeria. Brussels deliberately chose to convey its message through informal channels to avoid hurting the circles of the ailing Algerian president Abdelaziz Bouteflika, the sources said.
The paralysis of President Bouteflika, who is bedridden and unable to communicate with his entourage, raises questions in Europe about the genuine decision-making centers in Algeria. This political opacity triggers the fears of Algeria's European partners.
The European perception of the Algerian malaise is not, however, to the liking of officials in Algiers. So, they entrusted their DRS to find a way to implicate Morocco.
Some Algerian media, known for their links with the DRS, were thus asked to find out "the pro-Morocco European diplomat or diplomats" who were part of the Brussels delegation that met the Algerian journalists.
And, an Algerian media outlet wondered unconnectedly "why the European Union says nothing about the theft of the Western Sahara wealth by Morocco." But according to the same sources, the media attempts, that translate the embarrassment of Bouteflika's entourage, did not have the desired echoes.
In official exchanges with Brussels, Algerian authorities seemingly do not have convincing answers to the EU's concerns.
The EU deems that maintaining the status quo at all costs by distributing oil money is not a viable long-term policy. Besides, the EU is alarmed by the increasing number of riots and protests in various regions of Algeria and is convinced that these protest movements are all signs of the deep social unrest in the country.