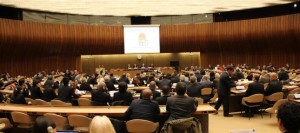 Neither the Polisario nor its Algerian mentors have assimilated the blow they were dealt recently in Geneva, after Algerian maneuvers to secure the Polisario's membership to the Socialist International (SI) failed, according to informed sources in Tindouf.
The decision of the SI Council was seen as an ultimate snub for the Polisario and for the Algerian delegation members who were striving to have the council admit the Polisario as a full-fledged member.
The SI Ethics Committee anticipated the Algerian delegation's deception and declined, for the second consecutive time, after the meeting held in Mexico City in 2013, to refer to the Western Sahara territorial dispute between Morocco and Algeria which arms and finances the separatist Polisario movement claiming the independence of the territory.
The SI Council has thus clearly abided by the topic of this year session, namely "conflict resolution and fight against terrorism" as constituents of international peace and security, added the sources.
The SI members' decision is certainly to be linked with the revelations made after the release of French hostage Serge Lazarevic, a few days earlier.
The French hostage who was held by the terrorist group AQIM was released in exchange for the liberation of four jihadists. And one of these four was precisely a member of the Polisario, named Habib Ould Mahouloud. He had been captured by the Malian army in clashes with terrorist groups in northern Mali.
The connections between the Polisario and terrorist groups are too evident and the SI cannot be deluded, especially that the organization ceaselessly pleads for the peaceful resolution of conflicts, particularly in the Sahel-Sahara explosive area, said the sources.