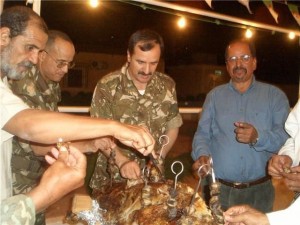 According to informed sources in Tindouf, the Polisario leader, Mohamed Abdelaziz, had had a hard time last Wednesday, when the Algerian Council of Ministers was meeting to decide cuts in the budget in the wake of the collapse of oil prices.
But at the end of the mini-ministerial council, a senior officer of the Algerian military intelligence services (DRS) reassured Mohamed Abdelaziz: The funds allocated to the Sahrawi Front were not affected by the drastic budget cuts, decided after the slump of gas and oil prices on the international market.
Algerian rulers who had a rude awakening after the oil prices collapse came under heavy criticism for their lack of foresight. The situation will surely get worse if the downfall was to continue in 2015 because 95% of the Algerian budget is based on oil and gas returns.

Before the restricted ministerial council hastily met under the chairmanship of President Abdelaziz Bouteflika, the government decided to freeze recruitment in the public service. This decision and other budget cuts are not only unpopular but they raise questions about the large subsidies granted to the Polisario and the decision not to cut them down.  According to the same sources, the explanation is to be found in the "regular" expenditures planned for 2015, such as spending on lobbying and media campaigns to snatch backing to the Polisario's thesis on Western Sahara independence. Besides, additional funding was earmarked to finance the Polisario's diplomatic activities and the trips of Polisario officials abroad, set to increase considerably next year.

However, the DRS Officer has reportedly made it clear to Mohamed Abdelaziz that his front should rationalize its expenses in this time of financial scarcity, the same sources said.