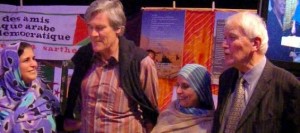 While relations between Morocco and France are currently strained, a French minister has just committed a new faux pas, throwing more fuel on the fire.
The socialist minister of Agriculture and spokesman for the Government, Stéphane Le Foll, took a picture with two women donning melhfat (Sahrawi traditional dress). The picture was widely circulated by Algerian media and websites close to the Polisario. The media claimed that the French official was present at an event of support for the Polisario Front. Sahrawis from the Tindouf camps were invited to the event.
The spokesman for the French Foreign Ministry, Roman Nadal, denied on Wednesday the participation of Stéphane Le Foll in any activity of support to or sympathy with the Polisario held in Le Mans, a town of the department of Sarthe. However, the picture, unless it was forged, shows the French official talking with two Sahrawi women.
Worse, the background of the picture shows clearly a banner with "friends of the Sahrawi Arab Democratic Republic" written in French and the flag of the ghostly Sahrawi republic (SADR).
Despite this tangible evidence, the Foreign Ministry's spokesman insisted that "Mr Le Foll did not attend any activity organized by the Polisario Front. He participated in the New Year Greetings ceremony held by the Mayor of Le Mans and to which the townhall had invited local associations."
To defuse the new tension somehow, Roman Nadal reaffirmed that France's position on the Western Sahara issue is "well known and remains unchanged."
Yet, Le Foll who is supposed to know the pro-Polisario associations active in his hometown should have guessed the trap laid by the separatists and their supporters and avoided this gaffe.
But willingly or unwillingly he committed a faux pas, adding to the embarrassment of his country's diplomacy, which is still struggling to overcome recent misunderstandings with Morocco, France's first partner and ally on the southern shore of the Mediterranean, and even in Africa.