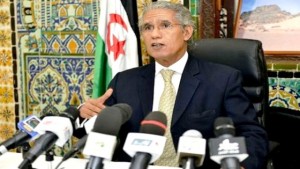 Algerian and Polisario leaders felt frustrated at the announcement of the normalization of relations between France and Morocco, at a time these leaders were hoping to see French-Moroccan relations deteriorate, particularly as a decisive meeting of the UN Security Council on the Western Sahara issue in April is nearing.
Out of fear to publicize further the warming of French-Moroccan relations, Algerian officials voiced, in very low tones, their disappointment with France that they consider one of Algeria's main foreign trade partners.
However, Polisario leaders have loudly expressed their irritation as they were far from expecting the normalization to take place any time soon.  On the contrary, they were hoping to see France abandon its longstanding Moroccan ally.
Some Polisario senior executives have violently criticized the French socialist government, accusing it of systematically aligning with Morocco's position in the Sahara conflict.
France, a permanent member of the Security Council, "aligns with the Mamounia (one of the great palaces of Marrakech) (…) to the detriment of the interests of the peoples of the Maghreb", accused the Foreign Minister of the so-called Sahrawi Republic "SADR", Mohamed Salem Ould Salek.
According to analysts, the thawing of relations between Paris and Rabat is the second blow dealt to Algeria and its protégé, the Polisario, in less than two weeks, after the promises made in person by the UN Secretary General, Ban Ki-Moon to King Mohammed VI.
The UN Secretary General had actually renewed in a phone call to the King of Morocco the absolute neutrality of the MINURSO and of his personal envoy for the Sahara, Christopher Ross, in handling the Western Sahara issue.
The Algeria-backed Polisario Front is claiming a self-determination referendum in Western Sahara, while Morocco proposed in 2007 an autonomy plan for the disputed territory under its sovereignty.