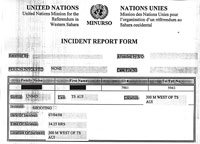 Taking part to the U.N. peacekeeping mission in Western Sahara can be of all dangers….
A report sent by MINURSO
and which "Polisario- confidential" got a copy of for its readers, described an incident which occurred in the U.N peacekeeping mission Team Site in Western Sahara on April 7.
In this report, it was stated that on April 7th, a military officer of the MINURSO heard a fire shot near the "Team Site" (TS in the document, one of the MINURSO observation points) and immediately turned to the Polisario liaison officer (LO in the document) to find out what had happened. A confused Polisario Front liaison officer explained that the Polisario security guards who surround the observation point needed "to stop an unknown vehicle which wanted to "force" the observation point. The guards have fired a shot as a warning, but the matter did not stop there. A bullet impact was found in the main observation point tent and would have finished its way to the info board.
Curiously, the bullet could not be found, which implies that the scene would have been "cleared» so that Minurso will not realize that it is more than probable that those who are supposed to protect them… may actually have fired on them.