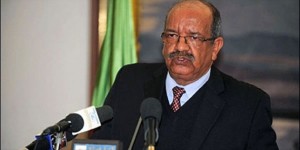 The Algerian regime is never tired when it comes to the diplomatic battle it has been waging against Morocco over the Western Sahara for forty years.
Lately, the Algerian Government got frustrated as it saw nothing new coming from the UN and from the UN Secretary General's personal envoy for the Sahara, Christopher Ross, who has just wound up his fifth visit to the region. So Algeria looked to its African friends.
For Algerian authorities, these friends, who are often in need of foreign financial assistance, are easier to manipulate. Also, they are always ready to flatter Algeria's hegemonic ambitions and unquenchable thirst for leadership. This thirst has prompted Algeria to go as far as planning the balkanization of the Maghreb region through the creation of a 6th state that would undoubtedly be a failed state.
Three days after the UN mediator's stopover in Algiers, the Algerian junior Minister for Maghreb and African Affairs, Abdelkader Messahel, went on an African tour that took him to Zimbabwe, which is currently holding the rotating chairmanship of the African Union (AU,) Benin and Niger.
Messahel was carrying messages from Algerian President Abdelaziz Bouteflika to his African peers dealing, as officially reported, with "the strengthening of bilateral relations with these sisterly countries and consultation on the overall situation in Africa and on international issues of common interest".
But according to African diplomatic sources, the Algerian Presidential "special envoy" is entrusted with a very special mission consisting in snatching these African countries' support to the Polisario Front's independence claims as a UN Security Council decisive meeting on the Western Sahara issue is nearing. This meeting is scheduled for the end of April.
And of course, the Algerian official was not very talkative in his statements to the local press to avoid revealing the real purpose of his visits, details on the Western Sahara conflict and on the upcoming Crans Montana Forum scheduled to be held in Dakhla, southern Morocco, March 12 – 14, to the great displeasure of Algeria.
Algeria has actually tried hard to have the venue of the Forum transferred somewhere else, but in vain, as Morocco did not take these attempts lightly and dispatched its Foreign minister, Salaheddine Mezouar, on a counter-offensive African tour.
And at the end of the day, the Crans Montana Forum will be held as initially scheduled in Dakhla.