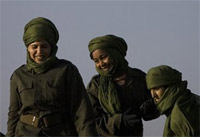 According to a reliable source, the Polisario Front military branch have held a close meeting on Monday May 19th, and would have decided the creation of a "female special squad", in response to the defections of male elements.
This special unit will be under the effective command of Khadija Hamdi, the actual culture Minister of the revolutionary movement and spouse of Mohammed Abdelaziz, Secretary General of the Polisario Front.
According to our informations, Khadija Hamdi will have the ambition to succeed to her husband and knows that being a chief army will add to her popularity.
However, for the old guards of the revolutionary movement, Mrs. Hamdi does not meet the conditions to hold more important functions than those she currently fills. This is why the culture Minister decided to take the matter in hand and create her own militia, which will be "officially" in charge of supervising the "cultural inheritance".
Another element justifying the creation of this special unit, according to a high ranked official in the Polisario Front joint by telephone by "Polisario-Confidential" is that the secretary general of the guerilla would have become increasingly paranoiac and would fear to be overthrown by some of his close security guards. Mohammed Abdelaziz would have given his blessing to this "women unit", which will be also in charge of securing the old man's safety…